CCNA Certification 640-802
Cisco Certified Network Associate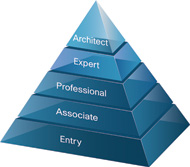 More than 20 step-by-step labs.

Each lab comes with a PDF file that shows you what you need to configure, how you can do it, the exact configuration commands, how you need to verify and test your configuration, some questions to test your knowledge and answers to increase your understanding.

Practice on real IOS !

Each lab has its owns topology, fully operational within a few minutes.

Each lab focuses on one topic.

Labs are organized within 5 chapters. Many topics covered, including VLANs, VTP, STP, PPP, Frame-Relay, RIP, OSPF, EIGRP, IPv6, ACL, NAT, SSH. Get ready for all lab simulations of your CCNA certification now!

Price: $35 for 100 hours.