CCNA Coaching
Certification 640-802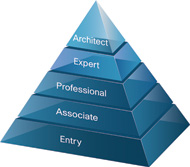 Personal coaching to get ready for CCNA lab exam.

We will help you assess your current knowledge with a questionaire. We will identify weak points you need to work on before getting ready for passing the CCNA lab exams. You will get full access to our CCNA labs, for 200 hours. Our CCIE experts will provide you with detail explanation for any question you would raise by email, within 24 hour, included in the official CCNA topics.

Coaching personalisé pour vous préparer au lab de la certification CCNA

Nous vous aidons à évaluer l'état de vos connaissances, à l'aide d'un questionnaire. Nous identifierons les points sur lesquels il vous faut travailler pour réussir aux labs du CCNA. Vous pourrez accéder à tous nos labs CCNA pendant 200 heures. Nos experts CCIE vous donnerons, sous 24 heures, une explication détaillée de toute question adressée par email sur les sujets abordés officiellement au CCNA.

$1199 for 3 months.